Our Guarantee
You can rest assured all our work is backed by my ironclad 100% money back guarantee. We Guarantee the most thorough cleaning ever or its FREE!


Don't
call any carpet cleaner until you've read this free Consumer Awareness Guide to hiring a carpet cleaner. You will discover:
How To Avoid 4 Carpet Cleaning Rip-Offs!

Why Are Companies offering low prices and sales all the time?



6 Costly Misconceptions About Carpet
Cleaning

Crawling Critters And Crud:
A Guide To The Slime,
Grime And Livestock That's Seeping, Creeping And Galloping Through Your Carpet


Which Methods Clean Best And Much More!
Truck mounted and Portable units
Proud & Trusted Member of:

Edmontons Best Carpet Cleaner Edmonton Community Votes 2021
Best In St. Albert 2022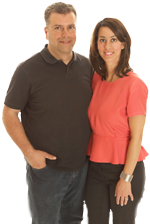 Dear Friend,
Hi! My name is Dean and I'm the owner of H&M Carpet Care and furnace and duct cleaning. Thank you for visiting our website.
OUR GOAL is to provide you with a healthy, clean home or office.
If you're planning on hiring a carpet cleaner in the near future, it's imperative that you get my FREE "Consumer's Guide to Hiring a Carpet Cleaner". This report will give you the information that most other local carpet cleaners will never tell you. Use the form on your left to get your free copy. It will; help you choose the best service provider for your home or business.
Our promise is to provide you with the finest service possible. Your satisfaction is very important to us. We are a family business and have relied on referrals and repeat business for almost 50 years. We use the best people and equipment to make our customers clients for life.
You can rest assured all our work is backed by my ironclad 100% money back guarantee. We Guarantee the most thorough cleaning ever or its FREE!
Our services include carpet & Upholstery cleaning, Furnace & Duct Cleaning, Area rug washing, pet odor control, as well as flood services.
I look forward to being of service to you.
To book an appointment or if you have any questions please call 780-456--3644.

Sincerely,
Dean Assiff
Client testimonials:
Wow! Our carpets are just like new. After using H & M carpet care the first time, we will be using them forever. Jennifer K. Edmonton
You took your time and did better than any carpet cleaner ever...! Brenda G. Sherwood Park, Ab
We have used H & M since 1969. Our whole family is using them and now our great granddaughter. Thanks so much!!! Margaret L. Edmonton, Ab
Our Area Rugs were cleaned at their plant. they came out perfect. Silk and wool and very expensive. Thanks so much. And thanks for the free pick up and delivery! Melody M. Edmonton
I Love these Guys! I tried the cheaper guys in the flyer. These guys take there time. They are the best carpet cleaner i have ever used. Trina W,. St. Albert
Dean and his crew are the best carpet and furnace cleaners period. Noni L. Fort Saskatchewan, AB
COVID 19 Update
Dear friend and clients,
In these trying times we are all taking precautions due to the unprecedented Corona virus that we must all deal with.
We always have cleaned for health, not just appearance. H & M Carpet Care will continue to apply disinfectant to carpets, floors, upholstery& air ducts for health. This is always our emphasis.
Our team is taking extra precautions by applying sanitizer to our equipment, washing hands before and after each job as well as wearing booties.
If you are in need of of our services, we are still taking appointments with social distancing of course.
Area rug pick up and drop off is still available also.
If you would like to book an appointment give us a call.
Take care and stay safe!
Dean