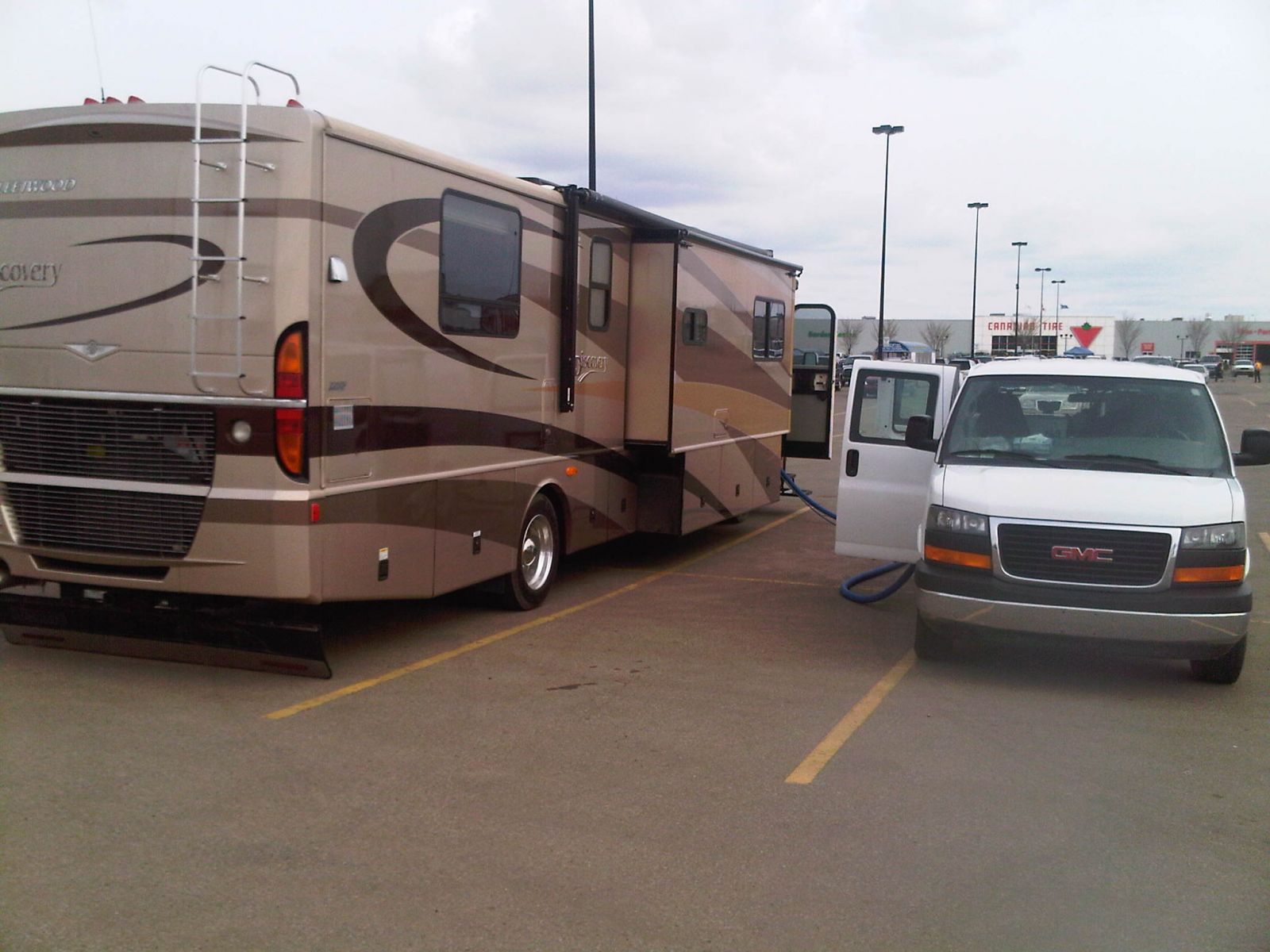 By Dean Assiff
I got a call from an awesome client, Gregg, last spring. He needed the inside of his motorhome cleaned and did not want to drive the big vehicle into the city. He was going down south to Scottsdale, Arizona for the winter. He lived outside of Edmonton, Alberta and we arranged to meet in the Walmart Parking lot in Fort Saskatchewan.
He was referred to us by one of his friends, who happened to be one of our clients. Our client, his friend, raved to him about our carpet cleaning company.
He was already there waiting for me in the beautiful motorhome pictured above. The RV was fully carpeted to the back and between the front passenger seats. There was also upholstery to be cleaned. Two swivel chairs, two front chairs and a sofa.
The carpets and upholstery needed cleaning and were moderately soiled. There was a strong campfire/camping odor that is common in RVs.
I said it will take about two and a half hours or so to do a thorough cleaning. Off Gregg went to shop at Walmart and Canadian Tire and grab lunch.
The beauty of a truck mounted unit is that we are set up to carry our own fresh water. A 110 gallon tank on board assures us that we have more than enough fresh water to get the job done. I began the process by spraying all the fabrics with our powerful pre-spray and spot remover. This formula is powerful on spots, but gentle on fabrics.
This was followed by a deodorizer that is applied to all the fabrics. The deodorizer disinfects and gets rid of the smell. I then started the machine and steam cleaned everything. The carpets and furniture came out looking as good so nice they were like new. The vehicle smelled fresh and clean. The camping odors were gone. I then applied a fabric protector to all. In this case genuine 3M Scotchgard. This will protect tyhe fabric from soiling quickly and help clean up spills easier. (Gregg seemed to like his soft drinks)
Gregg came back and the carpets and upholstery were almost dry to the touch. He was wowed by the difference. He was now excited to take his clean rig down south and show off to his buddies.
My company H & M Carpet Care http://www.handmcarpetcare.com does this service through spring, summer and fall. If a client cannot come to our shop, we will go to them. We will send one of our excellent technicians and one of our powerful truck mounts to your RV door. We guarantee that our work will be profoundly better than any detail shop that does not have IICRC certified cleaners. And more often than not, our price is less.
We serve Edmonton, Alberta and area. If you live elsewhere, research a reputable, professional carpet cleaner that can provide this service.